Jersey children handed sex guide aimed at parents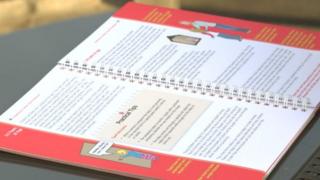 Parents in Jersey have criticised a decision to send a sex education leaflet home with children as young as two.
A Parents Toolkit (talking about sex and relationships) was given to every child under 12.
The charity which made it said it was designed to help parents but apologised for the way it was given out.
About 10,000 copies were printed and given to schools and nurseries to send home with children.
HIV/Aids charity Acet said the leaflet was designed to rekindle parents knowledge, confidence and skills, provide a how to pack and improve sexual health in Jersey.
Fiona Poolton, from Acet, said she was sorry if parents were unhappy.
"The book itself is a nice book in the fact it has cartoons and everything. Hopefully it wouldn't have caused too much distress. We are very sorry if parents have taken offence to it," she said.
Sandra Saraiva's five-year-old son was given the book by his teacher and she thinks it was wrong.
"With my eldest I don't mind because they know so much, but with the youngest the teacher should hand it to us so we have the option of taking it or not. I just find it disturbing for the little ones," she said.
One mum whose eight-year-old son brought the book home said she supported it.
Ally Pryce said: "I found my son has opened up a lot more since we've had this book, he asks me questions whereas before he would have been embarrassed. Now he realises we are both embarrassed and the book helped us look at it together."