Bishop of Dover on two-day visit to Jersey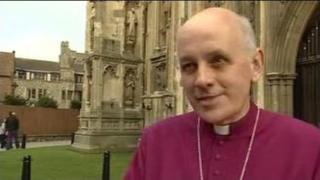 The Bishop of Dover has met Jersey clergy and States members for the first time during a two-day visit.
The Right Reverend Trevor Willmott has taken over care of the Anglican Church in the Channel Islands.
It followed the Channel Islands split with the Diocese of Winchester in January.
Relations between Bishop Tim Dakin of Winchester and Jersey's Dean, the Very Reverend Bob Key, broke down over the handling of alleged abuse.
The Church has launched an investigation into mishandling of the claims made by a woman against a church warden.
The States of Jersey Police and Hampshire Constabulary investigated the allegations of abuse in 2008 but found that there was insufficient evidence to proceed.
Bishop Willmott said the visit was "about offering Episcopal care and oversight of the church".
Dean Key welcomed the visit, adding that it was uncertain how long the arrangement would continue.