Jersey Springfield Stadium artificial pitch plans submitted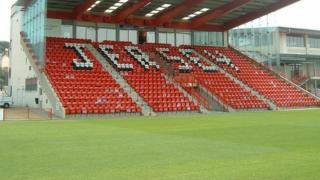 Plans to install an artificial pitch at Jersey's Springfield Stadium in a bid to increase its use have been submitted.
The project at the "home of Jersey football" in St Helier is part of the Fit for the Future strategy aimed at increasing participation in sport.
The pitch, which is expected to cost about £600,000, is due to be jointly funded by the States and the Jersey FA.
The hope is it will be in place when Jersey hosts the Islands Games in 2015.
Currently, about 50 football matches are played annually on the grass surface, which equals about 100 hours of playing time with 1,500 islanders taking part.
The Education, Culture and Sport Department hopes to increase the playing time to more than 2,500 hours per year with about 1,000 people using it each week.
The pitch will host Jersey FA (JFA) league matches, island team matches, coaching and training and will be open to schools, clubs and community groups.
Derek de la Haye, head of sport and youth, said: "It is an exciting opportunity to develop football in Jersey using the latest technology and, if approved, it will provide an excellent facility for the benefit of far more people."
Phil Austin, president of the JFA, said: "[It] provides the opportunity for the JFA to develop its activities significantly to provide more opportunities and also improve standards.
"These facilities are becoming more common across Europe and I am sure it will have a very positive impact on football in Jersey."