Jersey Met Ecrehous mast 'helped with storms'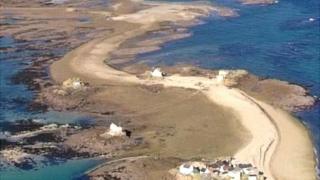 A wind mast built on a reef has improved the accuracy of metrological data, according to Jersey Met Office.
Tony Pallot, principal met officer, said the mast on the Ecrehous offered a more accurate measure of wind speed during the winter storms.
The mast is part of an automated weather station designed to provide wind strength and direction updates.
Work to install a second weather mast on the islands off Jersey will go ahead when nesting birds have left the site.
Terns are currently nesting at the site at Les Maisons, about 6km from the main island of the Minquiers, and work is due to begin when the young birds have flown their nests.
The masts are being installed as part of a three-year project aimed at improving forecast data and planning for potential renewable energy sources.
Mr Pallot told BBC News while the 10m (32ft) mast had improved accuracy a fault with the system meant forecasters only got the data once a week rather than live.
He said: "Unfortunately we have had some problems with the main communication system which have further been exacerbated by the bad weather over the winter.
"Fortunately though, the backup communication plan is working and we are able to download batches of data once a week."
Mr Pallot said the bad weather earlier in the year and the fact it is currently nesting season meant they had not been able to repair the fault yet.
He said he hoped to get a team out later in the summer to restore the live link.