Jersey sea wall repair 'to cost hundreds of thousands'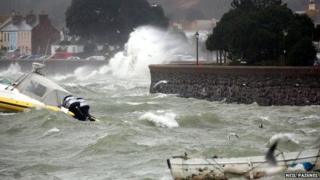 Work to repair sea defences after storms in February is likely to cost hundreds of thousands of pounds, according to the minister in charge.
Transport and Technical Services Minister Deputy Kevin Lewis said part of the work would see a "large chunk of seawall" replaced.
The repair project at Le Bourg will cost about £500,000 and require a large crane to be imported from Scotland.
Heavy winds and high tides caused damage to sea defences in February.
Deputy Lewis said the island already spends about £1m a year on the maintenance of sea defences and this latest work was on top of that funding.
About £200,000 alone was spent repairing damage caused by extreme weather in the week after it hit.
At the time Treasury Minister Senator Philip Ozouf said there was no limit to the money that would be made available to repair sea defences.
Deputy Lewis said it was not possible to put an exact figure on the cost of repairing existing defences but it would be hundreds of thousands of pounds.
"We already had plans in hand to put extra height on a few of the sea walls but we need to go down as well as up," he said.
Director of Infrastructure Chris Sampson said the repair work was likely to take until the end of the year to complete.
He said Le Bourg was the largest project and would take about two months to complete
He said: "We had 10 or 11 sections of concrete sea wall move during the tides. We created a design for the repair and we now have a contractor on site.
"We have done what we call plugging and immediate repairs, which is filling holes and making sure nothing is an immediate problem with coming tides."