Jersey Nazi labour camp structure uncovered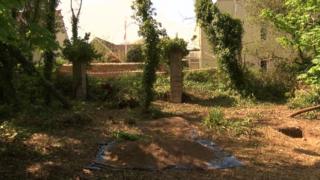 Experts working to discover a Nazi labour camp operated during the occupation of Jersey say they have found evidence of the camp's structure.
Archaeologist Dr Gilly Carr, from the University of Cambridge, said they knew the Lager Wick camp in Grouville existed because of records but wanted to find evidence of it.
She said the experts had now found remains of concrete structures.
They studied a tiny part of the 200m (656ft) by 100m (328ft) camp.
Dr Carr said: "While pieces of concrete may not be 'beautiful artefacts', they constitute proof of the practice of forced labour during the German occupation of WWII."
She said word of mouth and paper evidence had told them the camp had been used for workers forced to build a nearby railway line.
However, she said she wanted to find other evidence of the way the site was used and how they lived.
Lager Wick was a forced labour camp built in 1942 to house men from France, North Africa and Spain, which was abandoned in 1944.
Dr Carr said the men were made to work by the corrupt Organisation Todt. She said she wanted to show the plight of those who were forced to work for the Nazis.
"There is nothing with swastikas on, nothing to show us we might be in the occupation, it is all down to interpretation.
"Before we finish it would be nice to find conclusive evidence to show we are dealing with the occupation. We know what this site was used for but we want physical evidence.
"The point of this project was to see if temporary structures from the occupation would have left an archaeological trace, to show there were 12 of these forces labour camps in Jersey and to highlight the plight of forced labourers."
Jersey historian Michael Ginns, who was alive during the occupation, said the camp on Grouville Marsh had not been a terrible place for workers.
He said: "This was not a confined camp, it was wide open and civilians could go in. You could see the workers knock off at Grouville Common, trailing back to base.
"I used to look into the camp and you could see them around. They would work from eight in the morning until six in the evening with half an hour for lunch.
"Yes they were forced, but they weren't mistreated. It was a workers accommodation camp."
Dr Carr said the men may have been paid but they were still forced to work.
This excavation is the first of its kind in the Channel Islands.
Anything found from this site could be displayed at Jersey Museum, so the visible evidence of those forced to work will not fall through the island's history.