New street light design halves bills and 'improves safety'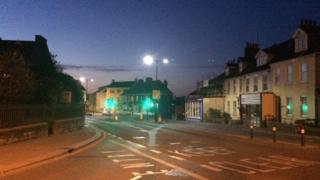 Lights which last 25 years are cutting Jersey's street lighting bill in half and may improve road safety.
Lamps in St Helier's Liberation Square are being fitted with light-emitting diodes, or LEDs, which use one third of the energy of conventional bulbs.
Jersey transport officials say the technology will be rolled out on all main island roads as budgets permit.
The lights at Liberation Square will be dimmed between midnight and 6am.
Bob Baudains, street works manager at Transport and Technical Services, said the LEDs last 100,000 hours "without significant maintenance" and would make streets more appealing and safer.
Philip Blake, Jersey's Road Safety Officer, said brighter lights could also reduce risk for pedestrians.
"There seems to be a fashion for wearing dark clothes and anything which helps car drivers see people in dark clothes is a great idea," he said.
The lights are already in place in some parts of the island including Snow Hill in St Helier and the main junction at Georgetown