Jersey faces construction industry skills shortage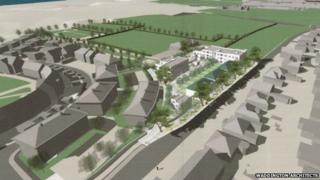 Jersey's construction industry will face a skills shortage by next year, says the Jersey Construction Council.
Marc Burton, a JeCC board member, said the construction workforce had shrunk 10% since 2010.
He was speaking at the launch of a back-to-work scheme designed to lure 200 islanders into construction.
A new hospital and fire station, new offices and new housing are all causes for optimism, he said.
"We've suffered a really heavy recession in construction. Our peak workforce was 5,500 and that's fallen 500," said Mr Burton.
"If you look at the capital expenditure budget over the next three to five years, plus we're starting to see confidence returning in the private sector, we are anticipating a skill shortage next year."
Social Security Minister Francis Le Gresley said there is £200m of States construction planned over the next two years and that would create building jobs.
Participants in the back-to-work scheme will be taught site safety skills, work on a community project unpaid, then do a one-week placement with a company, which it is claimed could lead to employment.
Participants will not lose benefits while taking part in the scheme.
James Joseph, managing director of construction company AC Mauger, has employed back-to-work participants and said his company finds it "very difficult" to find qualified staff.