Jersey States reject proposition to elect Bailiff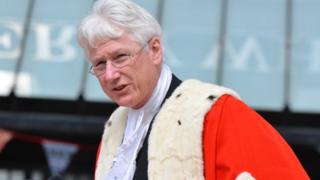 Jersey politicians have rejected a proposal to elect the head of parliament by 41 votes to five.
If passed, it would have ended the Bailiff's centuries-old role as head of both parliament and the judiciary.
Deputy Montfort Tadier said he is now considering a campaign to strip the Bailiff of his judicial powers.
Constable Simon Crowcroft, who submitted the proposition, did not vote for it because of a late amendment requiring ratification by referendum.
He said: "The public don't trust us when it comes to referendums so I can't support my own proposition, which clearly puts me in a difficult position."
'Huge mistakes'
Deputy Sam Mezec was elected in March on a reformist agenda and was one of five assembly members who voted in favour. Three abstained.
He said: "The reason it is important is because it is the job of each branch of the government to hold checks and balances on each other. The legislature and executive are entirely capable of making huge mistakes and even being corrupt."
It is "legally necessary" and "morally desirable" for the judiciary to make rulings that could embarrass them, said Deputy Mezec.
He said this would be difficult if one person was head of two branches of government.
He added: "The obvious solution, which is what happens all over the world, is to have two separate people doing these jobs who owe nothing to each other but only to democracy."
In his 2010 report the former High Court Judge Lord Carswell recommended the States should elect their own president from either within their own members or from outside the chamber instead.
The Bailiff is the civic head or first citizen of the island, and some people have suggested splitting the role could reduce its importance in the island.