EU protection sought for Jersey Milk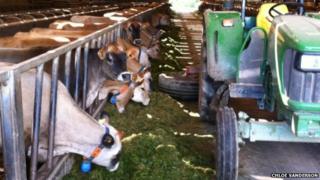 A UK Jersey cattle society is applying to have the term 'Jersey Milk' protected by European law.
Protection would apply to milk from pedigree Jersey cows even if it does not come from Jersey.
UK Jerseys, which regulates the breed on the mainland, is behind the move to gain Traditional Speciality Guaranteed (TSG) status.
Jersey Milk Marketing Board's Andrew Le Gallais said consumers could be confused, but he did not oppose it.
He said the island's dairy industry was working with UK Jerseys on an international quality logo but was not involved in the application and had not been asked to support it.
"Personally, I can understand why they've done it but quite frankly I don't think many consumers will understand what TSG means on a packet."
Mr Le Gallais said "a mighty amount" of dairy products labelled "Jersey" are not from Jersey and are often made only partly with Jersey cow milk.
Confuse consumers
Roger Trewhella, a director at UK Jerseys, said he did not believe protecting the breed, rather than the island, would confuse consumers.
"Jersey is geographically quite small compared to Europe. That's why we've picked up on TSG status, because it focuses on the breed of cow.
"The breed is well known so I don't believe confusion is an issue."
Applications for protected status are lodged with the UK's Department for the Environment, Food and Rural Affairs (Defra), which holds consultations before submitting proposals to Europe.
Eamon Fenlon, Jersey Dairy managing director, said he thought it unlikely Defra would proceed with the application without the island industry's blessing.
Protection prevents imitation products being made or sold throughout Europe.
An application by Jersey Dairy to protect Jersey butter was rejected in 2010 in the face of opposition from the UK dairy industry.