Jersey to limit job licences to 325 after States vote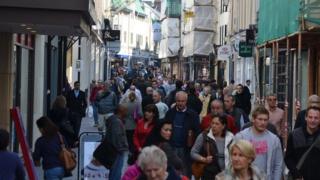 The number of work licences given to businesses employing people from outside Jersey will be limited after a States vote.
The migration cap, introduced by the Chief Minister, will see a maximum of 325 people given a licence to work.
It was a narrow victory for the government, with 25 voting in favour of the temporary policy to 20 against.
Chief Minister, Senator Ian Gorst, said businesses and islanders concerned about immigration needed clarity.
"Business needs this policy, business needs to know that we in this assembly want them to invest, want them to create jobs and that we support them in ensuring the fragile growth continues," he said.
St Brelade Deputy, Sean Power, voted against the proposals, saying they did not go far enough.
"The policy is to continue to regulate the regulated and ignore the daily arrivals at the airport and harbour that seek work in Jersey," he said.
"Until such time as we have a decision, like Switzerland - a country not in the EU that in February voted in stronger immigration controls and decided to abandon its agreement with the EU on the Common Travel Area - we have a growing and continuous problem."
Jersey's population is estimated to be about 100,000. Anyone from the European Union is free to move to Jersey but there are restrictions on where they can work and live.