Vets restore lemur's sight in cataract operation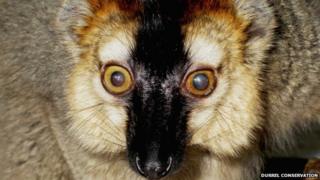 A lemur has had its sight restored following a two-hour operation at a Jersey wildlife park.
The primate, known by his keepers as Sam, began exhibiting eye problems in January.
Two experts from the Animal Health Trust performed the operation at Durrell Wildlife Conservation Trust.
Veterinary surgeons Claudia Hartley and Rachael Grundon have previously helped elephants, bears and lions to see again.
Dr Hartley, head of ophthalmology at the AHT, said: "There is nothing quite like the feeling of restoring sight to an animal, especially witnessing them see again for the first time.
"It really is the best job in the world."
Sam, a red-fronted brown lemur, was originally examined by human ophthalmologist, Bartley McNeela, in late March.
Six weeks on and Sam's keepers say the animal is enjoying "a new lease of life" and showing dominant behaviour in his mixed-lemur group.
Red-fronted brown lemurs are native to Madagascar where they are at risk of extinction, in places, due to habitat destruction.
Kelly Barker, of Durrell, said: "Our staff are really attached to Sam, he's a real character."