Jersey flag flown over Whitehall for Liberation Day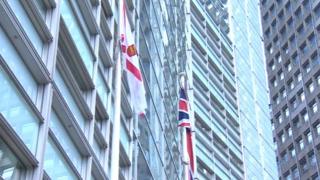 Jersey's flag was hoisted above Whitehall for the first time to mark the island's liberation after World War Two.
Royal Navy warship HMS Beagle arrived in Jersey on 9 May 1945, the day after Winston Churchill declared victory.
Guernsey was liberated on the same day although its flag was not raised in Whitehall.
Community Secretary Eric Pickles said it was "right to honour Jersey's freedom from tyranny".
The flag was flown outside the offices for the Department for Communities and Local Government in Bressenden Place.
"Jersey's Liberation Day is a timely reminder about the freedoms that we take for granted across the British Islands," Mr Pickles said.
Senator Philip Ozouf, Jersey's Treasury and Resources Minister, said liberation was still felt "deeply".
"Liberation Day is first and foremost a time of celebration for Jersey, as the point at which we regained our freedom and autonomy," he said.
"Yet it is also a chance to reflect on an experience that is still felt deeply in our island and to remember those who made the ultimate sacrifice."
Mr Pickles' department said they had intentionally not combined the two islands as they were separate, but they would fly Guernsey's flag in due course although Guernsey too marks its liberation on Friday.
Senator Ozouf told BBC News he felt all of the Channel Island flags should be flown over Whitehall for the 70th anniversary of liberation in 2015.