Jersey law will ease implementation of EU sanctions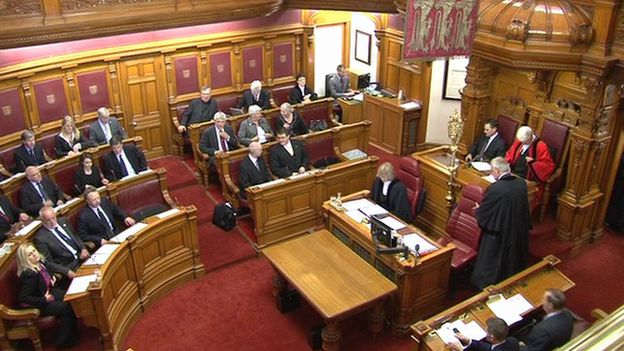 A law making it easier for Jersey to adopt European legislation has been unanimously passed by the States assembly.
The law will smooth the adoption of EU-wide sanctions against Russian leaders accused of involvement in Russia's annexation of Crimea.
Jersey is not part of the EU but often adopts European regulation.
In the States on Tuesday, some members were worried that Jersey may be ceding too much sovereignty to Europe.
Senator Sarah Ferguson chaired a scrutiny panel which examined the law.
'Surrendered its sovereignty'
"Russian sanctions are an EU proposal and this affects our industries. No doubt we will follow them," she said.
"But we are not in the EU and it is for this reason we must provide members with the provenance of legislation.
"The UK has all but surrendered its sovereignty and we should guard ours more carefully."
Deputy Sam Mezec said he doubted whether anyone in Jersey "really understands" the island's relationship with Europe.
"If Senator Ferguson can support this then I can too, but the whole relationship needs a good look at after this," he said.
"I think there should be a public debate about what we want our relationship with the EU to be in the future."
Senator Philip Bailhache, Jersey's Minister for External Relations, proposed the law and told the States that it would not lead to the widespread automatic adoption of European laws.
Related Internet Links
The BBC is not responsible for the content of external sites.