Safety fears over mystery landslide site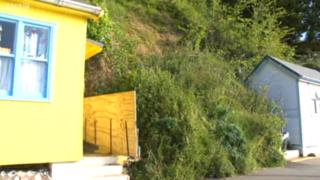 The remnants of a landslide in Jersey in 2012 remain potentially dangerous, according to parishioners.
A beach hut in Rozel was destroyed by the incident but the owner of the land above which dislodged cannot be traced.
Diana Daniels used the hut every weekend for decades and says she wrote to the registered owner prior to the landslide over her concerns about the stability of the land.
Mrs Daniels has spent 16 months trying to trace the owner.
"We've contacted all of the relevant States departments but none of them is able to make this man take responsibility," she said.
Ann Pryke is the Deputy for Trinity and is worried that the land could still be unstable.
She says the government has also been trying to trace the owner.
"The bank could still slide into the road and cause a lot of damage and harm to people who are walking by," said Deputy Pryke.
The land is registered to a company called Ghyll Limited but the BBC has been unable to contact a company representative.
Mrs Daniels says she is considering trying to force a sale of the land.