Retiring Guernsey Press editor attacks government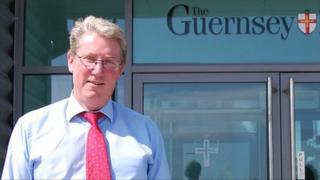 The departing Guernsey Press editor has launched an attack on the bailiwick's system of government.
In his final editorial, published on Friday, Richard Digard said Guernsey's system was "mind-numbingly bad".
He referred to "flashes of excellence" but said consensus-style government let islanders down.
Guernsey government departments are led by ministers but policies have to be approved by boards prior to going before the States.
"Guernsey's system of government is very poor. Actually, mind-numbingly bad," wrote Mr Digard.
"It doesn't mean to be and there are some pockets of goodness and occasional flashes of excellence or even brilliance. But taken as a whole it consistently lets down the island."
He said the pay dispute with firefighters in 2010 was just one example of an issue which would have been less disruptive if ministers had the powers to take charge.
Chief Minister Jonathan Le Tocq told BBC News: "Like Winston Churchill said, democracy is the worst form of government except for every other form of government.
"The editor of the Press has always wanted a very clear British cabinet type of system but for that to work we would have to have political parties, but political parties have never done very well in the Channel Islands.
"They raise more suspicions than followers."