Jersey politicians reject call for pay change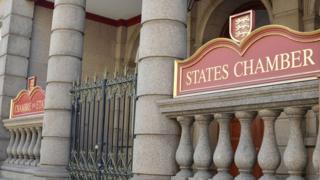 All Jersey politicians will continue to be paid the same regardless of office, after calls for a change were rejected.
All elected politicians have to be paid the same rate regardless of office or responsibility under law.
Treasury Minister Senator Philip Ozouf said the system was unfair and brought an amendment to wider proposals for government change.
Deputy Sam Mezec, chairman of Reform Jersey, described the proposed change as "legalised bribery".
Politicians voted 23 in favour to 20 against the proposal.
Deputy Mezec said: "What this amendment does is make a bad situation worse. Just imagine what it will be like if this form of legalised bribery is accepted.
"Not only will ministers lose their title and position if they don't toe the line, they will also lose a large part of their salary."
Senator Ozouf said the change would not mean ministers suddenly got more pay, it would be down to the remuneration body to decide if they deserved more money.
Politicians in the island are paid £42,600 a year and are able to claim up to £4,000 in expenses. Their salary is set by an independent remuneration body.
As of last month UK MPs were paid a basic salary of £67,060 plus expenses.