Competition regulator probes JT broadband offer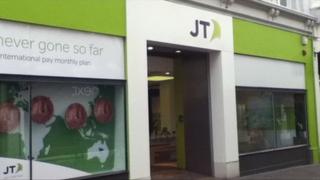 Telecoms provider JT Global has said it wants to "work with regulators" over a competition investigation into its new broadband offer.
Customers have been offered fibre optic broadband for the same price as the current slower service.
If customers accept the proposal, monthly bills will automatically jump by £5 per month in 18 months' time.
JT's rivals also claim it has raised the monthly wholesale line rental rate it charges them by £3 per customer.
Sure and Newtel say the offer is anti-competitive and the wholesale hike will make it unviable for them to provide similar services on the JT-owned network.
The Channel Island Competition and Regulatory Authorities (CICRA) is investigating the claims.
Michael Byrne, CICRA's interim chief executive, said customers need to "carefully consider" before signing up.
Higher prices
"CICRA recognises that customers will receive a faster service but has received complaints from customers aggrieved with not having a choice and being required to upgrade to a product they do not require and that will result in a significant increase in monthly bills at the end of the 18-month period."
The rival firms say they could exit the market leaving consumers with less choice and higher prices.
Daragh McDermott, JT's director of corporate affairs, said the new offer was radical.
"We first signposted these changes in October and since then have had a really excellent response from customers, which we think shows that we have got the new products right.
"Effectively, JT is now being criticised for being too competitive.
"On that basis, it should come as no surprise at all that our competitors have complained, but it's a little rich for Sure to be upset about our wholesale pricing to them in Jersey, when they actually charge us a higher wholesale price, as the network owner, in Guernsey."