States members vote to end free parking at Snow Hill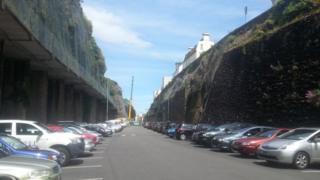 States members have voted to end their own free use of 11 dedicated spaces in Snow Hill car park in St Helier.
Some of the 17 members who made speeches during the one-hour debate said they were "embarrassed" to be debating such a trivial subject.
Deputy Edward Noel, who lodged the proposition, said town was short of parking and he was putting shopper needs before member needs.
The spaces in question are currently blocked by construction work.
'Cheap gimmick'
"We don't actually need the spaces," said Deputy Noel.
"We have been without them since July last year and will be without them until October.
"We are in effect, commuters and should use the commuter car parks."
Deputy Geoff Southern said the proposal was a "cheap electioneering gimmick".
Senator Philip Ozouf said it was time for the States to "end its embarrassment".
The motion was passed 23 votes in favour, five against and five abstentions.