Record turnout for Jersey biker fundraiser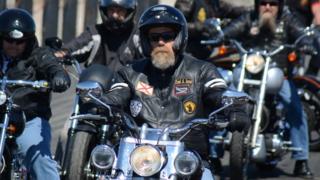 Record numbers of bikers gathered for Jersey's annual Big Rideout charity event on Sunday.
Organisers estimate 700 bikers joined the ride, which raises money for the Jersey-based charity Holiday's for Heroes.
It offers week-long holidays to the island for injured UK servicemen.
Lee Butler, of the Greenman Motorcycle Club, organised the ride from St Catherine's to St Ouen.
"It's a great little charity," he said.
"When the guys come over for their holidays, we take them out on the bikes and this is just an extension of that."
Richard and Dawn Woodhouse run Holidays for Heroes.
"We believe it's a record number of more than 700 participants so it's a major fundraiser," said Mr Woodhouse.
"Ninety per cent are from Jersey but there are bikers from Alderney, Guernsey and the UK, including some of our holidaying heroes who have chosen to come back over and take part.
"We estimate they've raised more than £10,000 over the past four years and that is crucial."