Gay marriage proposition lodged by Reform Jersey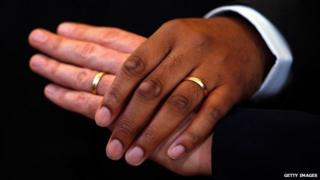 A proposition to grant the right to marry to gay people will be debated by the Jersey States in July.
A recent poll in Jersey suggested 81% of islanders support gay marriage.
A petition calling for equal rights for lesbian, gay, bisexual, transgender and questioning (LGBTQ) people in the Channel Islands has attracted more than 1,000 signatures.
Martin Gavet, chairman of the Channel Island rights group Liberate, welcomed the news.
"We're fully supportive of any move that brings fairness and equality to the LGBTQ community in Jersey, including the most fundamental right that people have, which is to marry," he said.
"Civil partnership doesn't go far enough. It's right and moral for the State of Jersey to do this."
Jersey has recognised civil partnerships since 2012.
Deputy Sam Mezec, of Reform Jersey, lodged the proposition on Wednesday but was unavailable for comment.
Deputy Nick Le Cornu, also of Reform Jersey, said he did not expect opposition to the proposal.
"I think it's an open door," said Deputy Le Cornu.
"There will always be those who are homophobic and oppose these things on principle but I think society is pretty relaxed about it."