Springfield pitch plan rejected by planners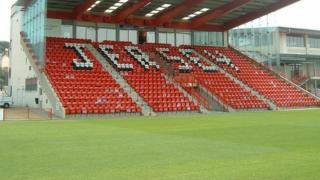 Plans to replace the grass at Jersey's biggest football ground with high-tech artificial turf have been halted because of neighbours' objections over a fence.
The Jersey Football Association says it will not compromise over the fence.
The £500,000 '3G' pitch was proposed last year and is backed by the Football Association in England.
The all-weather facility was intended to prevent fixture backlogs building up due to poor conditions.
Deputy Sean Power, planning panel chairman, said there were big concerns about the project, which involved resurfacing the pitch, erecting a surrounding fence, moving a play area and getting rid of the spectator mound opposite the grandstand.
"The application wasn't to a very good standard," said Deputy Power.
"We had big concerns about the fencing and the moving of the children's play area.
"We asked them to take it [the plan] away and bring it back to us."
Cat protection
Phil Austin, of the Jersey Football Association, said the current pitch was not fit for purpose and the fence was necessary to protect the proposed artificial surface.
"Part of the funding is from the FA and they have these pitches all over the UK and they insist that these fences go in.
"These 3G surfaces have to be protected. You can't have dogs and cats running all over them.
"If there has to be compromise there will be compromise but from the feedback I've had it won't be around the fence."
Currently, about 50 football matches are played annually on the grass surface, but the Education, Culture and Sport Department wants 1,000 people using the new pitch every week.
Springfield Stadium will be a venue for the 2015 Island Games and the planners say there is still time to revise the application.