Call for Somme memorial to Jersey soldiers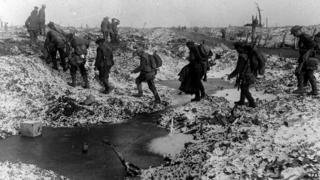 A memorial to Jerseymen who fought in the First World War could be erected to mark the 100th anniversary of the Battle of the Somme.
About 6,000 islanders fought in the conflict and 1,500 were killed.
Colin Egre, of the Royal British Legion, said the Somme could be an ideal place for a memorial because men of the Jersey Company had a particularly hard battle there.
Mr Egre said it was sad there was not a memorial to all of Jersey's military.
He said: "I think it is very important. Lots of Jersey people went to fight in the First World War, and to feel they have no real memorial is a great oversight."
Historian Ian Ronayne added: "For my part, I have taken people to these locations on tours and it strikes them there is nothing to recall Jersey's sacrifice and that Jersey was here."
While most Jersey men fought in units across the armed forces, 320 of them fought as a unit, the Jersey Company.
Mr Egre said the memorial could be put up at the village of Guillemont on the Somme, where the company took heavy casualties.