Jersey gun ownership down since 2012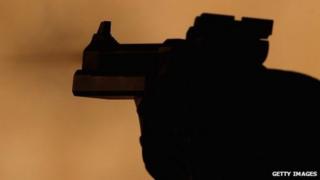 The number of registered guns and gun owners in Jersey has fallen since 2012.
Police records show there are 1,514 firearm owners which is a 16% drop over the past two years.
Between them, the island's gun owners keep 9,328 guns, including air rifles and pistols, which is 4% down since 2012.
Gun ownership in Jersey has been in the spotlight since a Glock 9mm pistol went missing from an unlocked car on Friday 30 May.
The pistol was handed in two days later by a member of the public.
Jersey's population is estimated to be about 99,000 which means there is one gun per 11 inhabitants.
'False belief'
Derek Bernard, honorary secretary of the Jersey Shooting Federation, said bureaucracy and controls were discouraging people from taking up shooting.
"It's pressure. It's the administrative effort that goes into filling in forms and having people come and view your storage arrangements," said Mr Bernard.
"There's nowhere in the world where gun control has any produced any social benefit," he said.
"It is consumed by a false belief that those sort of things will actually beneficially influence human behaviour and there's no evidence that they do anywhere, not in America, not in Australia, not anywhere."
Former centeniere and firearms officer Jim Rigby says the £35 licence fee should be hiked to further cut gun ownership, and powers over licensing should be transferred from Parish authorities to professional police.
Mr Rigby said: "It has always been my opinion that gun control should be taken away from the officers of the honorary police and the licence fees quadrupled.
"Safety at the clubs is very impressive but it's not the clubs people should be worried about, it's that you always get some idiots.
"If they had to pay £150 it would cut the number of guns held and pay for more proper experienced firearms officers."