Jersey in warning after fentanyl abuse death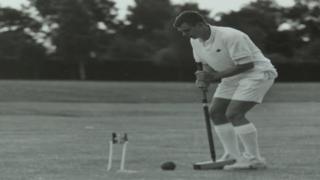 Health authorities are warning about the dangers of injecting a prescription painkiller, after an island croquet champion died from an overdose.
Matthew Burrow, 33, was found dead in November in St Brelade, Jersey.
An inquest on Wednesday heard he was found by his grandmother after he collapsed in the bathroom.
Michael Gafoor from the Jersey drug and alcohol service said fentanyl was a strong opiate painkiller, 100 times stronger than heroin.
He said: "It is usually applied by way of a patch on to the skin and absorbed over two or three days.
"It can be extremely dangerous if it is used inappropriately.
"A few years ago we had a spate of fentanyl-related deaths in the island."
The inquest heard Mr Burrow had been known to the police for drugs abuse over a number of years.
A statement from a friend was read out saying Mr Burrow knew the dangers of taking drugs and likened it to playing a game of Russian roulette.
Summing up at the inquest, Deputy Viscount Mark Harris said: "It was a sad and untimely death caused by fentanyl poisoning, a strong pain relief drug which Mr Burrow had unlawfully picked up."
He said Mr Burrow died after injecting the painkilling drug, which is usually supplied as a patch by pharmacists with a doctor's prescription.
Sudden deaths
Mr Burrow's grandmother told the inquest he had shown promise of becoming the world number one at croquet after becoming European champion years before.
There are also problems the use of fentanyl by drug addicts in Guernsey. A spokesman for Guernsey's Community Drug and Alcohol Team said fentanyl patches were increasingly by drug users.
He said it had been linked to a number of sudden deaths in Guernsey.
On Wednesday, an inquest heard Bradley Martin, 35, from Guernsey, died after injecting fentanyl. He was found at his home in Mill Street on 7 May 2014.
Fentanyl comes as a patch, slowly releasing the drug, but people abusing it can extract the opiate and inject it.
Mr Gafoor said the drug could change hands for up to £80 on the street in Jersey and was injected by addicts. He said this was not as common in the UK.
"The price of drugs in Jersey compared to the UK is considerably higher. One gram of heroin in London is worth £50, the same gram in Jersey is worth £500, so users in Jersey tend to rely more on prescribed drugs.
"In the UK people tend to use heroin over fentanyl because it is more available. Heroin is very hard to get hold of in Jersey," he said.