French power cable barge to 'beach' in Gorey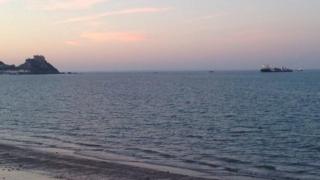 A new electricity cable linking the seabed between France and Jersey is expected to reach the shore of Grouville Bay later.
The cable is part of a £70m project to secure the energy supplies of Jersey and Guernsey.
Jersey Electricity's chief executive Chris Ambler said it was a complex project.
He said there were a number of obstacles along the way, including clearing unexploded ordinance devices.
A 115m (377ft) long barge has been slowly edging its way across the channel laying the cable two metres beneath the seabed.
Travelling at 50 metres an hour, the 7,000-tonne vessel called the Cable Enterprise has no engines and is moved by tugs.
The barge has been visible off the coast of Gorey for several weeks. It is expected to reach the shore off Gorey.
Mr Ambler said: "There are very strict regulatory requirements around the way these project are done and very strict environmental standards we have to adhere to.
"We have had to survey the route and when we get contacts there we have had to clear those contacts. That was a challenge but it has gone very well."
He said the new link would improve the islands' electricity supply, working alongside the existing cable.