Plemont too damaged by fire to investigate cause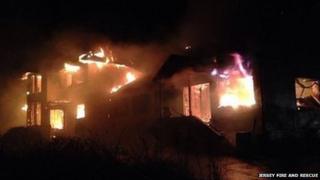 A fire which destroyed the former Plemont holiday camp caused so much damage investigators have not yet been inside the property.
In the States Assembly on Tuesday, Deputy Sean Power said that Jersey Fire and Rescue now believe the fire on 4 January was "probably" started deliberately.
He then asked the Home Affairs Minister about the status of the investigation.
Senator Ian Le Marquand said there were no suspects.
"Due to the extensive structural damage and the presence of highly toxic asbestos it was not possible to carry out an internal forensic examination to identify the source of ignition of the fire," he said.
"Firemen risk their lives from time to time to go into a live fire to rescue a person. But they would not normally be called upon to take significant health risks in situations which do not have an element of urgency."
Deputy Power also asked the Home Affairs Minister if the police had linked Plemont's planning status, and public interest in the site, to the outbreak of fire.
"I would hope that my officers do not make decisions based on political considerations," said Senator Le Marquand.
The former Pontins camp is the subject of a 15-year campaign to return the majority of the site to nature and the owner, Plemont Bay Estates, has agreed to sell it to the National Trust for Jersey for £7.1m.
The trust says it has half the money, while States members are due to debate whether to provide the other half.
Plemont Bay Estates has also been granted permission to build 28 homes on the site.