Jersey marriages at lowest level since 1995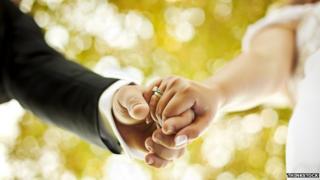 The number of marriages in Jersey is at its lowest level since 1995, according to figures published by the States.
The report shows 484 couples were married and 27 entered a civil partnership last year.
The highest number of marriages in the report, which goes back to 1995 was in 1999 when 841 couples married.
Of the 484 marriages last year, about 75% of them were performed outside of churches as civil ceremonies including 178 at the registry office.
The number of couples coming to Jersey from outside the island increased slightly last year compared to the previous year, up by three to 119.
Jersey's government is due to debate the introduction of an equal marriage law in July.
Deputy Sam Mezec, from Reform Jersey, introduced the proposition and said the option of marriage should be available to everyone.
He said: "[Marriage] is declining slightly but I would put it down to people choosing to have families later and buying a house later.
"The cost of living is much higher than it used to be and so it is less the idea of marriage going that has affected figures going down but the cost of outside influences.
"It costs thousands of pounds to have a marriage if you are going to do it properly with a reception and everything. It is more satisfying to settle down in a home and long-term relationship."
Jersey's government introduced civil partnerships for same-sex couples in 2012.
In the first year 17 couples entered a civil partnership. That increased to 27 last year.