Customs launch duty-free tobacco crackdown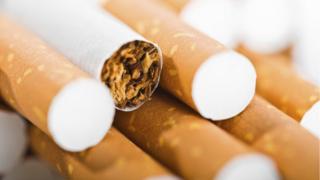 Jersey's customs authorities have seized 150,000 cigarettes and 50kg of tobacco so far in 2014.
In the whole of 2013, officials seized 182,000 cigarettes and 51kg of tobacco.
The Customs and Immigration Service has now hired two extra staff for the summer to detect passengers exceeding duty-free allowances.
Steven Le Marquand, of Customs and Immigration, says more people are importing cigarettes "by the thousands".
Passengers arriving in Jersey are allowed to bring 200 cigarettes duty free.
"We're starting to see some individuals importing quite large quantities," said Mr Le Marquand.
"It's not huge numbers but we are getting situations where certain individuals are importing 3,000 to 5,000 cigarettes at a time, and we're starting to see more of those instances."
Deliberately evading duty can attract a prison sentence.
Mr Le Marquand says one individual from Poland was recently bound over to leave Jersey for three years for importing 5,400 cigarettes.