Jersey's first Iron Age settlement unearthed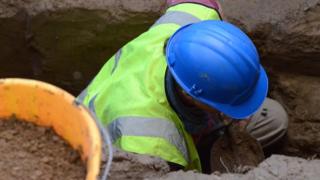 An iron age settlement has been unearthed in Jersey after a two month excavation.
The work on the site in St Clement has discovered objects dating back over 2,000 years.
Field Archaeologist, Robert Waterhouse, said the site had produced evidence of the first Iron Age house to be discovered on the island.
He said the site dates from the 2nd Century BC to the early 1st Century AD and was likely a private home.
Mr Waterhouse said: "It includes a probable rectangular house, built of timber with wattle and daub wall panels.
"Three periods of activity have been identified, the first having a large ditch crossing the site, of 2nd to 1st century BC date - firmly in the Iron Age."
There have been very few finds of Iron Age and Gallo-Roman date in Jersey, compared with its neighbour Guernsey, which has more than 70 Roman sites and several Iron Age ones.
Mr Waterhouse said: "The large number of Iron Age coin hoards (such as that at present on display in the Jersey Museum) give us a biased view of the end of the Iron Age.
"We know very little about how people actually lived at that time.
"The site at St Clement gives us a much better understanding of this, as it contains a great deal of domestic rubbish. This includes both local and imported pottery"
During the Gallo-Roman period the Channel Islands were an important stepping stone in an international trade route from the Mediterranean to North-West Europe.
Ships carried wine, olive oil and high quality consumer goods up from Spain and Italy, bringing raw materials such as metals back from Northern Europe.