Thousands of 'dead crabs' wash up in Grouville Bay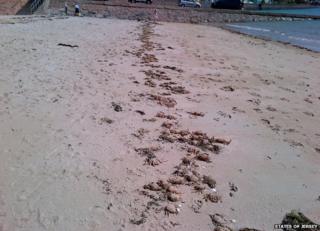 Members of the public should not worry about what appear to be thousands of dead crabs on Jersey's beaches, officials have said.
Islanders had contacted the Department of the Environment about the "dead crabs" which have been washed up around Grouville Bay.
However, they are actually moulted shells of spider crabs.
Mike Smith, of the environment department, says the phenomenon was natural but the scale was unusual.
The crabs move inshore in the summer to moult and breed.
"Transport & Technical Services have been down because they're thinking of clearing it up," Mr Smith said. "They think there are about 4,000 shells,
"It's brought on by rising sea temperatures and good weather, but it's quite unusual for so many to be washed up in one spot.
"Why that should happen we're not sure."
Officials say the shells are natural, empty and will not smell.