Channel Islands church split cost questioned by Portsmouth Dean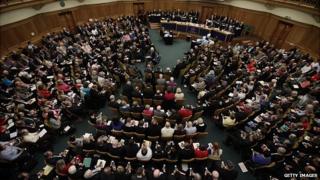 Church of England authorities are being asked about the cost of the split between Channel Islands churches and the Bishop of Winchester.
The Anglican Church in the islands split from Winchester in January after a dispute over how abuse complaints were handled.
The Very Reverend David Brindley, Dean of Portsmouth, told the BBC he would ask the general synod next week.
He expects to find out the legal costs incurred by the synod and bishops.
The costs for the Diocese of Winchester can not be requested through the synod.
Dean Brindley said the answer was relevant to his diocese and others and suggested there may be a better ways of solving disputes, rather than the legal route.
He said: "Viewing it from outside I'd have thought some sort of negotiated settlement may have been easier than the sort of legal settlement that has had to be reached.
"We've got to weight up what the resources are that are involved and what the outcome is and if the resources put in are not commensurate with the outcome we ought to ask questions about it."