The Channel Islands Earthquake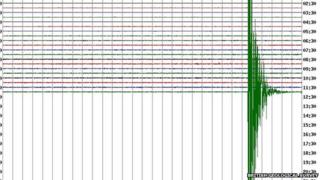 An earthquake of about 4.2 magnitude has been felt in the Channel Islands and south-west England.
Tony Pallot, from the Jersey Met Office, said the epicentre was nine miles (15 km) to the west of Jersey, but was felt across the islands.
A spokesman for the British Geological Survey said it was the largest earthquake in the area since 1933.
BBC Radio Jersey presenter Sara Palmer said she could feel the ground under her feet shake while she was on air.
Status Quo
"I could see the monitors in front of me shake. It was really odd - we all looked wide-eyed at each other," she said.
She happened to be playing Status Quo's song Rocking All Over the World as the earthquake hit.
The tremor registered on British Geological Survey monitoring station equipment in Exeter, Devon.
Mr Pallot said: "It has been felt across the islands. From what we can see it was detected in parts of the UK as well.
"This was a significant tremor for the islands. This is one of the biggest ones we have experienced."
Agitated orangutans
The Durrell Wildlife Trust said animals in the wildlife park reacted to the earthquake.
Gordon Hunt, mammal keeper at Durrell, said: "Something strange with the organgutans, they are all calling in an agitated manner and are clearly upset about something.
"They had been playing up all morning and we thought it was just tension in the group, but they are very agitated now."
Dr Roger Norwich, geologist and Sark resident, said: "It was felt in Sark strongly. There were two quite strong tremors."
However, Sark resident Phyllis thought it was nothing compared to a quake she felt when she was about 11 years old.
She said: "It was just before four o'clock as we were standing up saying prayers as we did in those days.
"It was far worse than anything we've experienced in Sark today. The ground actually moved under my feet.
"Today, we were dozing in our chairs by virtue of our ages - he's 94 and I'm in my 90th year - and we just felt our chairs move, but only fairly slightly."
The police and fire service in the islands said there had been no reports of injuries or damage.