Jersey survey shows call for change to emergency care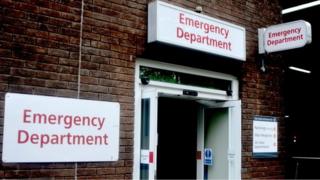 The Jersey Consumer Council (JCC) has unearthed a range of worries about the island's healthcare system.
Concerns over fees, privacy and value were among many points raised by focus group sessions run by the council.
Anne King, JCC executive director, said people were also annoyed new arrivals to Jersey were using emergency facilities for non-emergency treatment.
Nigel Minihane, of the Jersey Primary Care Body, said GPs were working on the issue of high charges.
The focus groups followed a survey of 6,500 islanders in 2012.
The Jersey Consumer Council is a States-funded body which advocates consumer rights.
GP visits in Jersey are partially subsidised by the government, but it can cost up to £40 per visit.
New arrivals are not entitled to subsidised appointments for six months. There is no fee for using A&E.
Mrs King told BBC News: "Respondents felt people needed to have contributed into the system in order to get something back out."
Addressing concerns that fees could be putting residents off visiting a doctor, Mr Minihane said: "The island's doctors are concerned about this and have been so for some time.
"We are in active discussions with health to look at how we can approach vulnerable people.
"As GPs we have to make amends in terms of communication and letting people know the services we do provide."
In May, health minister Deputy Anne Pryke said of the 37,500 patients visiting A&E in 2013, about 18,000 could have had their complaints handled by a GP.