Jersey Marine Lake re-opens after £300,000 repair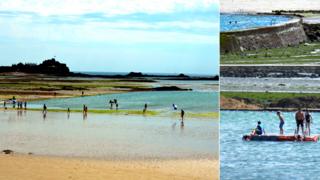 A marine lake originally built to mark the diamond jubilee of Queen Victoria has re-opened after decades of disrepair.
The Jubilee Marine Lake was restored by the Marine Lake Group and cost about £300,000.
The sea lake is 190m (623ft) long and 150m (492ft) wide and will be used by swimmers and kayakers.
The Marine Lake Group said it had put it back the way it was when it was first commissioned.
Mike Graham, general manager of the Bosdet Foundation which will manage the site, said the restoration project would bring the area back to life.
"It is going to make a huge different to West Park. It is the opening for St Helier and it will make an improvement to the beach.
"It won't just be the lake itself, but it will bring the whole area back to life and make it a fun place to be."
The boundary wall for the lake is over quarter of a mile long and features 2,500 cubic metres of stonework and is up to 10ft (3m) deep.
It covers an area of 13 vergees [quarters of the French acre, or 23,400 sq m] and can hold more than 6m gallons (27m litres) of water.
The idea to restore the marine lake came after the 2012 Olympic Games. Mr Horsfall, from the lake group said they were inspired by the event.