Sealant may be needed to halt oil staining bus stop stone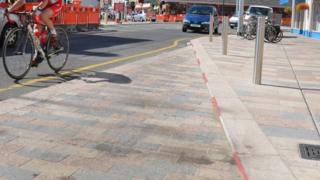 Special sealant may be needed for new granite paving in St Aubin to prevent engine oil staining the stone.
The pavement, which is also a bus stop, is part of £1m revamp of the village centre road layout still under construction.
Chris Samson, of Transport & Technical Services (TTS), said workers have already had to steam-clean the new paving.
Liberty Bus said its vehicles are not to blame.
Mr Samson said cleaning the stone costs money and is trying to identify the leaking vehicles.
He appealed for public help to identify the leaking vehicles.
"We'll be setting up an appropriate cleaning timetable once the work's finished but in the meantime we are looking to find out who's doing the damage," Mr Samson said.
'Potential culprits'
Kevin Hart, general manager of Liberty Bus, said he has checked his buses, most of which are 18 months old, and found no leaks.
He said TTS vehicles are a potential culprit.
"Our vehicles have been checked out and it is not our vehicles that have oil leaking from them.
"Other vehicles, such as bin lorries, use the bus stop in St Aubin."
Mr Samson said he was looking at various chemicals to seal the surface of the granite to make it easier to keep clean.
The granite is high quality stone from France, he said, but it will age and should not be expected to look brand new.