Jersey Deputy in call for medicinal cannabis licence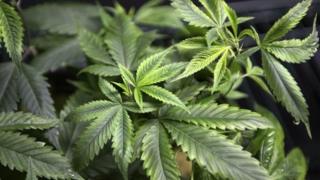 A Jersey politician has called on the government to allow doctors to prescribe cannabis for medicinal use.
Deputy Montfort Tadier of Reform Jersey was inspired to make the appeal after speaking to Evelyn Mary Rose Volante, who suffers from chronic pain.
The deputy launched a petition asking the health minister to give GPs the right to prescribe the drug for pain relief.
The issue will be debated by politicians in September.
In March, health minister Deputy Anne Pryke announced a review into the law after a request for a licence from an unnamed individual.
Under the Misuse of Drugs Act there is a provision for a person, with approval from the health minister, to cultivate cannabis plants - although it has never been used.
Clinical grounds
The licence could also allow them to possess the Class B drug providing it is for their personal medicinal use.
Deputy Pryke said: "I have received Deputy Tadier's proposition and am also aware of the petition.
"This is a decision that must made on clinical grounds and I will be consulting the appropriate clinicians within my Department in the coming weeks."
Deputy Tadier said Evelyn's symptoms were chronic and complex.
He said: "Evelyn has been prescribed cannabinoids in the past, in the form of Sativex - however, this is costly and due to the highly reduced nature of her digestive tract she is unable to absorb Sativex sufficiently in order for it to work effectively.
"It is for this reason that she is requesting, as I am with this accompanying proposition, that the Minister for Health and Social Services grant her a licence for the possession of cannabis for the treatment."