Jersey historical child abuse inquiry begins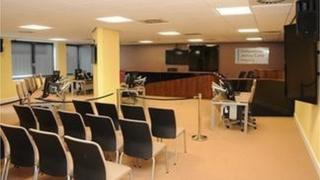 An inquiry looking into historical child abuse allegations in Jersey's care system has started.
The year-long £6m inquiry will probe reports of abuse in the island's children's homes and fostering services from 1960 to the present day.
The panel is still appealing for witnesses to come forward.
During her opening statement, inquiry chairwoman Francis Oldham QC stressed it would be independent of the States and police.
The hearing is expected to last more than a year is being held in Seaton Place, St Helier.
A three-year, £7.5m investigation by Jersey police into historical child abuse in the island's care homes began after allegations of abuse at former children's home Haut de la Garenne.
From September 2007, police took 1,776 statements from 192 victims, identifying 151 alleged abusers. Seven people were successfully prosecuted.
Care system background
One of the aims of the inquiry is to "establish whether, where abuse was suspected, it was reported to the appropriate bodies including the States of Jersey Police and what action was taken by persons or entities including the police", inquiry chair Frances Oldham QC has said.
The inquiry will first hear from experts to give a background on the care system in Jersey.
Ms Oldham said they would then hear from those accused of abuse and in contact with those in care.
The inquiry would also "examine whether decisions to prosecute were taken consistently, impartially and without any political influence or interference at any level", she said.