Jersey abuse inquiry: Thousands of files may be relevant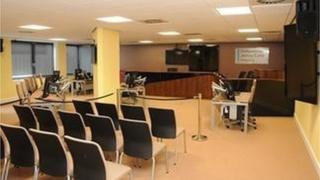 About 15,000 files - some containing hundreds of documents - have been identified as potentially relevant to the Independent Jersey Care Inquiry, the hearing was told.
Advocate Beverley Lacey, representing the States, said nobody should underestimate the scale of the task.
She told the inquiry many of the files were decades old and in paper from.
She said many documents had already been disclosed by the States but many more were still being prepared.
Before the inquiry began, the health department initially refused to disclose documents it said contained confidential personal information about compensation scheme claimants.
"Where scheme claimants did not consent to their private and confidential papers being disclosed to the inquiry, those papers have been disclosed as ordered but they have been highlighted as 'private and confidential' and not for disclosure to third parties," said Advocate Lacey.
'Dickensian novel'
The inquiry heard 132 individuals have made compensation claims and so far 85% of claims have been settled for a total of £1.75m.
Tuesday afternoon and Wednesday morning were reserved for opening statements from designated "interested parties" - victims, the police and the government.
Speaking for the victims, solicitor Alan Collins said some of the evidence the inquiry would hear "came straight from a Dickensian novel".
He said many victims had not claimed compensation and believed their abusers had escaped justice.
Speaking for the police, Advocate Robert MacRae said the force would not be defensive and would learn from any criticism.
The inquiry was adjourned until 29 July.