JT privatisation moves 'will be monitored'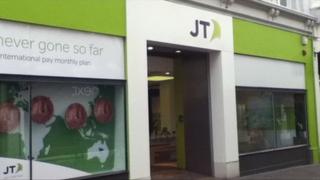 A union in Jersey says it will monitor "very closely" any developments or moves to privatise a telecommunications company.
Earlier this week, Auditor General Karen McConnell said the States should consider selling off the publically-owned JT Global.
The GMB union said the island's economy might not benefit from such a move.
JT and the Treasury Minister said they were "broadly satisfied" with current arrangements.
'Possible windfall'
Until 2003, JT was effectively a government department, but since then it has operated as a publicly owned commercial company.
In her latest report into States ownership of JT, Ms McConnell said it had grown significantly in the past 11 years.
In 2013, JT made £150m in sales and £10m in pre-tax profits.
Ms McConnell said the company has become a bigger risk over the years because of foreign expansion and could yield a windfall for taxpayers if sold.
JT publishes annual reports but Ms McConnell said all of its accounts should be published apart from commercially sensitive information.
If privatisation did not happen, politicians should overhaul their relationship with JT and force it to publish full accounts, she said.
She also said the Treasury Department, which represented taxpayers on JT's board, should develop a dedicated office to monitor the company.
The Treasury said the benefits of doing so would not justify the cost.
Tim Langlois, of the GMB, said that Ms McConnell - who was formerly of the UK Audit Commission - "needs to understand this is Jersey not the UK".
"Jersey is a unique island you cannot always apply what works in the UK to our smaller economies of scale.
"The auditor general will be gone in a few years - back to the UK, no doubt - the JT GMB members are here to stay."