Channel Island church inquiries 'could cost £645,000'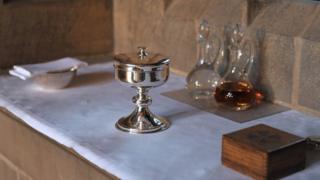 A rift between the Channel Islands and the Diocese of Winchester could cost hundreds of thousands of pounds more than what was initially reported, it has been revealed.
The islands split with the diocese over the handling of an abuse complaint.
The Church of England previously said it had spent £190,000 on the rift.
But, a leading lay member of the Church in Jersey has suggested it has cost £645,000, which has been disputed by The Diocese of Winchester.
'Invented figures'
BBC Radio Jersey has seen a leaked document which suggests the cost could be even higher than the figure quoted by the lay member.
The extra costs are expected to come from legal fees for all parties and for the reports commissioned, which are not yet in the public domain.
A spokesman for the Diocese of Winchester said: "The figures were inaccurate and it was a serious matter to put invented figures into the public domain."
The Bishop of Dover, the Very Reverend Trevor Willmott, said: "As far as I am concerned, as bishop responsible for both Jersey and Guernsey now, we will keep the cost for the national church as low as possible.
"Although people may make statements, I have to say they really do not know the reality of the situation."
The Church Commissioners said they would pay half of the total cost with the Diocese of Winchester paying the other half, totalling the £190,000.