Jersey announces Russia sanctions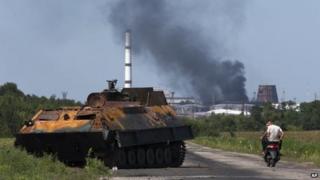 Jersey has announced sanctions against Russia in line with the EU's response to the escalating Ukraine crisis.
Chief Minister, Ian Gorst, said Jersey "has a duty to act".
EU action was prompted by the downing of Malaysia Airlines flight MH17, killing all 298 people on board.
A Jersey Finance brochure promoting links with Russia suggests Russian companies incorporated in the island have raised £1.2bn of investment in London stock markets.
Jersey Finance is also scheduled to sponsor the "world's biggest" tax planning and corporate structuring conference in Moscow in September.
Geoff Cook, CEO of Jersey Finance, said the industry would meet its legal obligations.
"Jersey Finance's planned strategy regarding existing, legitimate business that falls clearly outside the scope of the sanctions will remain in place," he added.
Freeze accounts
Jersey financial institutions have been told to freeze accounts belonging to sanctioned individuals and report them to the Chief Minister.
The sanctions also prohibit the export of technology to Russia's oil industry, and effectively ban five of Russia's biggest banks from Europe's capital markets.
Eight Russian companies, mostly in the mining industry, are registered in Jersey and listed on the London Stock Exchange's flagship Main Market.
According to Jersey Finance, those include Highland Gold Mining, Peter Hambro Mining, Polymetal International, Polyus Gold International, Rambler Media and Ukrproduct Group.
Western nations say there is growing evidence the Malaysian plane was hit by a Russian-supplied missile fired by separatist rebels. Russia has denied supplying weapons to the rebels.
The EU says it is targeting those who "actively support or are benefiting from Russian decision makers responsible for the annexation of Crimea or the destabilisation of eastern Ukraine".