Jersey marks outbreak of WW1 with 'Ceremony of Light'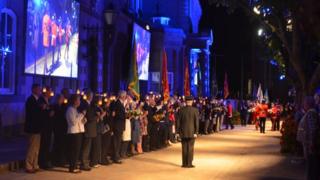 The outbreak of World War One has been marked in Jersey with a lantern-lit parade.
About 2,000 islanders filled Royal Square for a Ceremony of Light which ended at 23:00 BST, the time at which Britain declared war on Germany on 4 August 1914.
Almost 12,500 Channel Islanders were involved in World War One.
During the ceremony, bands were accompanied by choirs, recitals and readings of letters from the trenches.
A lantern parade made its way from Halkett Place to Royal Square to the sound of the Town Church bell.
The bell also sounded 100 years ago as war was declared.
Solitary flame
Standard bearers led representatives from each of Jersey's 12 parishes as they carried candles in front of the States buildings.
All bar one were extinguished leaving a solitary flame burning in the square.
The theme of lights going out was intended to represent Europe's descent into darkness.
Jersey's Bailiff, Sir Michael Birt, said few families were unaffected by the war.
"In all, about 6,000 Islanders served in the British forces during the conflict and, if one adds in those who served in the French armed forces or as merchant seamen, the total contribution was some 19% of the population.
"Some 1,600 men connected with the island fell in action or died from wounds received in the war."
Revd Robert Keys, the Anglican Dean of Jersey, said: "Stories of evil and tyranny are matched, if not surpassed by those of the courage, selflessness and sacrifice of the millions who fought and in far too many cases, gave their lives in the cause of freedom and justice.
"We thank God for for the sunshine of life that breaks through the shadow of death."