Lord Faulks meets Reform Jersey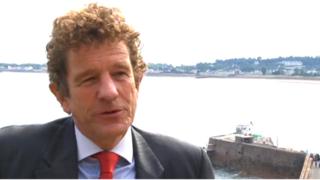 Lord Edward Faulks says he does not object "in any way" to meeting Jersey politicians who say they were sidelined during his visit to the island.
Lord Faulks is the UK minister responsible for British relations with Crown Dependencies.
Members of Reform Jersey said on Monday they were not informed of his visit until a press release was issued.
Reform Jersey did meet the minister on Tuesday after members publicly aired their complaint.
"I didn't object in any way to those who felt they weren't getting access to me," Lord Faulks told BBC News.
"If they feel they would like greater access I'm very open to that. It is, I suppose, inevitable that you're going to tend to meet the leaders but I'm more than happy to hear what anyone has to say."
'Dissatisfied'
Members of Reform Jersey, a reformist political party, said island leaders had an interest in portraying Jersey's political system as being in good health.
Deputy Sam Mezec, who met Lord Faulks on Tuesday, said he thought the minister had been briefed against the party's agenda.
Lord Faulks said: "There are things some people will be dissatisfied with.
"Some people would like more independence and some people would like us to interfere more when things aren't going the way they want.
"I think there's a vey high threshold before the United Kingdom would intervene, but we do stand ready to advise."