Jersey man who fell from wall dies in hospital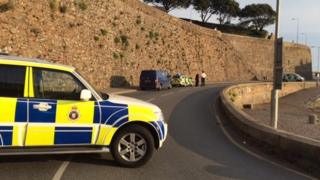 A man who died after falling from a 30ft (9m) wall had a "heart of gold", say friends.
Gavin Edward Le Cornu, 29, was injured in the fall on to Commercial Buildings road, opposite La Folie Inn, St Helier, Jersey, at about 18:30 BST on Thursday.
One witness told police the man was being chased, but this has not been confirmed.
Officers investigating what caused him to fall want to speak to two men seen in the area.
Robert Surcouf, of the Classic and Vintage Motor Racing Club, paid tribute to Mr Le Cornu, who was a motor sport enthusiast.
"Gavin was a jolly nice chap," said Mr Surcouf.
"He had a heart of gold and always had a smile. You couldn't help but like him."
One of the men the police want to talk to is said to be a tanned white man, in his mid 60s, 5ft 8in to 5ft 9in tall, with short stubble, short dark brown hair and he was wearing a blue crew neck t-shirt.
The second man is also white, in his early 20s, about 5ft 8in tall, with short mousey hair, and he wore a dark blue t-shirt.
Specially trained family liaison officers are supporting Mr Le Cornu's family.