Medicinal cannabis smoker undeterred after raid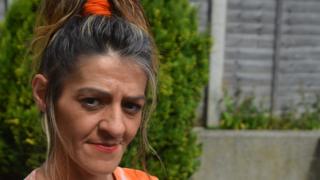 A chronically ill woman who uses cannabis to alleviate her symptoms says she will continue smoking it, despite a police raid on her house.
Evelyn Volante says five officers entered her home in St Saviour, Jersey, at 07:00 BST on Sunday 27 July and left with 1g of cannabis.
Ms Volante is the subject of a Jersey States proposition to grant her a permit for cannabis.
The police said they could not comment on on-going investigations.
Ms Volante, who suffers digestive problems, said the raid was "humiliating".
"It's frustrating because I'm not well," she said.
"I haven't been able to get any cannabis since I was raided. My weight has deteriorated. I was 7st 6lb (48kg) and my weight's plummeted almost a stone in just over a week, which obviously I can't afford."
Health 'worsening'
Ms Volante says cannabis gives her an appetite, suppresses nausea and allows her to cut her intake of conventional medication. She takes up to 140 tablets a day.
Her doctor, Simon Travis, a consultant gastroenterologist at the John Radcliffe Hospital in Oxford, said regulation might be more appropriate and safer than prohibition.
"There is reasonably good evidence that cannabidiol acts as an anti-inflammatory. It's not just pain relief," he said.
Deputy Montfort Tadier lodged the Jersey States proposition on Ms Volante's behalf, but says powers already exist to grant permits for medicinal use of cannabis. He said the issue should not have become political.
Lyndon Farnham, Deputy Home Affairs Minister, said he was "open-minded" but thought legal alternatives were available.
The States, he said, was unlikely to support Deputy Montfort's proposition.
Ms Volante, who has not been charged, is undeterred and says she will keep on using cannabis.
"I've been in this battle since 2005," she said.
"For me there isn't a right time. My health isn't getting better, it's getting worse."