Jersey wall death man 'was not being chased'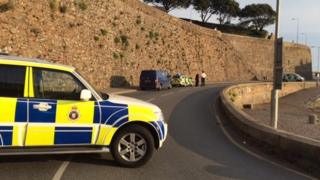 Police investigating the death of a man who fell from a 30ft (9m) wall said he was not being chased at the time.
Gavin Edward Le Cornu, 29, was injured in the fall on to Commercial Buildings, opposite La Folie Inn, St Helier, Jersey, at about 18:30 BST on Thursday.
A witness had told the police Mr Le Cornu was being chased, but in interviews other witnesses had said this was not the case.
Mr Le Cornu, who friends said had a "heart of gold", died in hospital.
Jersey police said they wanted to talk to a further witness who was in the area at the time.
Police said he was a tanned white man, in his mid 60s, 5ft 8in to 5ft 9in tall, with short stubble, light brown eyes, and short dark brown hair which was greying.
Specially-trained family liaison officers are supporting Mr Le Cornu's family.