Jersey couple see red on ruby wedding trip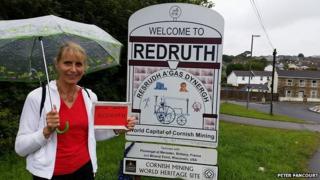 A couple from Jersey are celebrating their ruby wedding anniversary with a tour of 40 places with the colour red in their names.
Jo and Peter Fancourt, who started their journey by ferry to Weymouth, where they originally met, have already visited places in Cornwall, Somerset, Bristol and South Wales.
Their mission involves driving 3,000 miles in a car covered in red ribbons.
They have also seen Redcar on Teesside and Redesdale in Northumberland.
Mr Fancourt said: "Every day is a red day. We wake up and say what red clothes can we wear today?"
Knowing their ruby wedding anniversary was coming up they first celebrated with a trip to the Red River in Vietnam, before visiting places closer to home.
Mrs Fancourt said: "Some of them aren't the most picturesque. One place, The Reddings in Gloucester, was actually a council estate."
It is not the first time the couple has ventured on unusual adventures.
They have been house-swapping in America, hostelling around Japan and travelled by train to Siberia and Outer Mongolia.
In the last few days they have visited Red Marshall in Stockton and Redworth and Redford in County Durham.
In the final week of their holiday they plan to visit Red Row, Redesdale Camp and Redesmouth in Northumberland, before heading to Redburn, Red Dial and Red Main in Cumbria.
They are also hoping to visit Redmire in Yorkshire, Redbourne in Lincolnshire and Redmile in Leicestershire, before heading southwards to relevant places in Suffolk, Sussex and Wiltshire.
The couple will return to Jersey on 21 August.