Jersey's new rules on pilotless drones come into force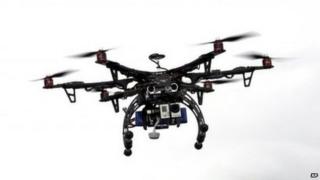 New rules governing pilotless drones have come into force in Jersey.
The rules limit where and how high small unmanned aircraft can fly in the island.
Gus Paterson, director of civil aviation, says there will be a common sense approach to enforcement.
Mr Paterson said drones can pose a threat to planes and the new regulation brings Jersey in line with international civil aviation rules.
Drones will be banned from flying above 400ft and from within two miles of the airport.
'Like birds'
Aircraft weighing more than 7kg will need air traffic control permission to fly anywhere in the island's airspace.
"They're a bit like birds in that if an aeroplane was to hit one on take off or landing they could cause significant damage," said Mr Paterson.
"If someone is using one of these devices near the airfield or in any manner that might endanger the public then there is the possibility for us to take criminal action."
Under the rules, anyone who uses drones commercially to take and sell video or photos would need a permit from the civil aviation office.