Condor seals £50m Channel Island ferry deal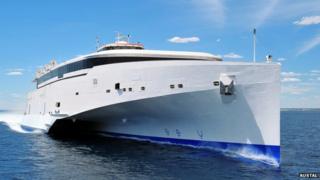 Condor Ferries has bought a new £50m Austal-class ferry to serve the Channel Islands from the UK.
The new ferry will sail from Poole, because its previous base at Weymouth cannot cope with the larger vessel.
The purchase follows lengthy negotiations over an operating licence in Jersey and facilities in Weymouth.
Weymouth spent £4.5m renovating its harbour but still could not accommodate the new ship.
It will enter service in 2015.
Blow for Weymouth
Condor CEO James Fulford said: "We are now proud owners of the Austal 102.
"This represents £50m of investment in our islands and it will enable us to improve reliability, increase capacity, and give our guests a much greater level of comfort," said Mr Fulford.
He acknowledged the news was a blow for Weymouth.
"We recognise that this is disappointing news for Weymouth. However, given the need for berth improvements and an environmental impact assessment, Weymouth is not currently in a position to accommodate the 102.
"Reaching a medium-term arrangement with Poole will give certainty to our customers."
Weymouth & Portland Borough Council said it did not have the £10m required for improvements to accommodate a bigger ferry.
In May, council representatives and South Dorset MP Richard Drax failed to secure government funding to upgrade the ferry port.